Body Stress Release has been researched and practiced since 1981, and the Association (BSRA) was formed in 1987 by the

founding Members and Pioneers of Body Stress Release, Ewald Meggersee and Gail Meggersee. The Association controls the mode of practice of practitioners, and is governed by the BSRA constitution, a 55 page document by which all practitioners are bound. It ensures that high professional standards of practice are maintained by providing a code of ethics, a defined scope of practice, and disciplinary powers to deal with misconduct. Only practitioners registered with the Association may legally practice BSR.BSR is currently practiced in South Africa, England, Ireland, Scotland, The Netherlands, New Zealand, Australia, Iceland, Canada, and the USA.
Ewald and Gail's Experience:
Fear of becoming totally paralyzed while still in his 30s led Ewald Meggersee, together with his wife Gail, to pioneer the body-wellness system known as BODY STRESS RELEASE (BSR)."I had the distorted posture of a 120 year-old and would frequently wake up paralyzed from the waist down," says Ewald. "And all my life – from the age of five, when I fell out of a tree and lay unconscious for a week – no one had been able to find the source of the continuous shooting pains and cramping I suffered in my lower back and legs. Ewald qualified as an industrial chemist, and met and married Gail, a teacher. His body pain didn't let up. "Sometimes," says Gail, "Ewald would scream out in his sleep and leap out of bed in the grip of intense cramping in his calf muscles.
Our darkest moment came the day he woke up feeling no sensation from the waist down. I watched in horror as he rolled out of bed onto the floor, pulling himself up via the wardrobe for support while he waited for sensation to return to his legs." The nightmare became a regular occurrence for Ewald. "You can imagine my fear of going to sleep at night when I didn't know if I was going to wake up permanently paralyzed," he says. "Eventually it got so bad that I faced losing my job and spending the rest of my life in a wheelchair. We felt we had nothing to lose, so we decided to pack up everything and both train as chiropractors in the United States.
"Over the years, Ewald had received temporary relief from regular chiropractic treatments, but the pain would always return. Now they hoped to discover something which perhaps others had missed and find a way to identify the source of Ewald's pain and reverse his worsening condition.
"During our studies in America we had the good fortune to meet Dr Richard van Rumpt, a retired chiropractor who had researched an approach completely different to chiropractic manipulation," says Ewald. "He talked about listening to the body and using it as a biofeedback mechanism that would be self-healing.
When we returned to South Africa, we built on his method of reading the body's feedback response to areas of muscle stress and contraction. The technique became known as "Body Stress Release." "What we discovered is that the body protects itself from stress in a highly organized way. Although it can normally adapt to the various stresses and strains of everyday life – falls, jerks, heavy lifting, bad posture – if the stress gets too severe, the body suffers overload and locks the stress into itself in lines of tension and contraction. This is why a person with long-term body stress may also feel tense, tired, and lacking in energy and enthusiasm for life. Headaches, backache and indigestion may follow. "In some cases, a person suffering stress overload no longer feels stiff or sore – but just comes to accept as normal a sense of having less than 100% well-being.
Thousands of South Africans beat a path to the Meggersee's door as word spread when they started their BSR practice in Cape Town in the 1980s. Many of their clients, like Ewald himself, had tried other traditional avenues of medical and chiropractic treatment – without success.
But now the couple had found a gentle, almost miraculous way of enhancing the body's own healing powers by releasing long-held stress locked in the muscular system. They knew it worked because their prime guinea pig, Ewald himself, had gone from being a near cripple to regaining his strength and the pain-free body he now describes as being as fit as a teenager's.
Ewald reports that his body continues to improve. 'For the first time in my life I can feel the sensation of socks and shoes on my feet and have improved movement in my ankles,' he says. Ironically, the BSR system which the Meggersee's pioneered differs radically from its chiropractic roots. Ewald says that most of their students come from fields unrelated to medicine – alternative or traditional. "BSR differs from chiropractic in that it uses information provided by the body itself to determine where abnormal muscle tension is under-mining the efficiency of the nervous system and disturbing its ability to co-ordinate its' function".
The Academy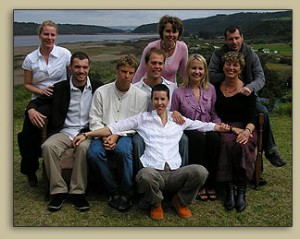 The Body Stress Release academy was established in 1987 and is situated in a rural area called Rondevlei between Wilderness and Sedgefield. Knysna and George are the largest towns nearby. The whole area is known as the Garden Route. The Academy conducts the practitioner training course over 5 months (usually May to September), including an apprenticeship program. Currently 24 students are selected from all over the world. Classes take place during the morning, Monday to Friday, and some afternoons with the rest of the day available for studying, extra practice and leisure pursuits.
The syllabus covers anatomy, BSR philosophy and principles, technique theory and practice, communication, office procedures, client management, case studies and a study of the BSR constitution. Instruction is in the form of lecturing/teaching, demonstration and practical experience. On successfully passing the 4 final examinations and completing the apprenticeship program, the student receives the BSR Practitioner Certificate.
In 2014, there was an academy established in the U.K., this is very exciting news for the European community. Currently it is also training practitioners.